Tactical Scorpion Level III+ PE Body Armor Plates + Bobcat Concealable Carrier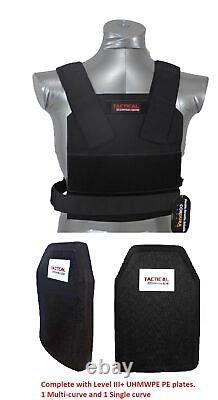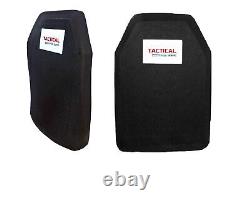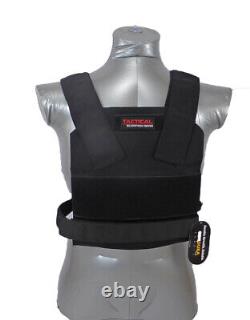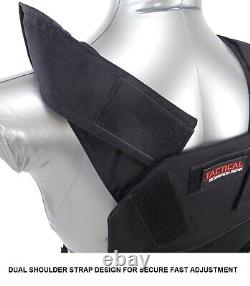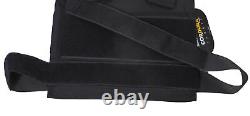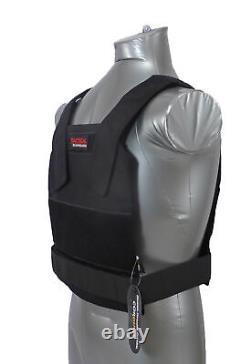 Tactical Scorpion Gear Level IIIA Body Armor 2 pc Bobcat 11x12 Vest - Black. Has again taken the armor plate carrier to the next level. After much request and demand we have developed our Bobcat vest which is a lightweight concealable armor plate carrier designed for the Steel core AR500 or similar and Ceramic style armor plates which can hold a Steel core plate and trauma pad comfortably. We have incorporated Cordura brand fabric to provide the wearer with the ultimate in a carrier vest that weighs only 11 ounces. Double stitched seams and "X" stitching at all ends for the strongest construction.
Heavy duty double adjustable shoulder straps. Double closure Velcro and snap Plate pockets to keep them secure. Tactical Scorpion Gear Bobcat Concealable armor plate carrier vest. This vest provides pockets for the front and rear armor 10? We also have a 11x14 version. Made for quick and easy placement for in case of emergency. Sides adjust quickly with quick release hook and loop belting. Armor type: Level III+ Polyethylene. Weight without armor: 11 ounces. Size: Fully adjustable shoulder straps and girth - Small to XXLarge. 4 loop on front and rear for insignias or hook accessories.
Armor pocket design with hook / loop and snap safety closures. Level III+ Polyethylene PE Body Armor Pair 10" x 12" Plates 1 Multi-curve and 1 Single-curve. Made in USA by our own craftsmen. You can put away that inferior heavy steel body armor that they wore in the medieval days.
A stand alone armor plate with multiple hit capability. Covering: 600D nylon with edge padding. Fully tested by independent Lab (documentation sent by request). NIJ Rated for up to six hits from 7.62 Nato bullets.
308 Winchester with velocities up to 2780 fps/ 7.62 x 51mm (MSC, PS Ball) Tested with XM193 at 45 ft with recorded velocities in excess of 3400fps from a 20 barrel For front and/or back protection. Plate Sizes available: 6x6, 6x8, 8x10, 10x12, 11x14. Plate shapes available : Flat, Single-curved, Multi-curved. Custom sizes available by quote.
Here at Tactical Scorpion Gear we manufacture our own vest carriers, aramid level IIIA vests and all our products. This model complies with NIJ Standard-0101.06 for Ballistic Resistance of Body Armor. By purchasing the body armor contained in this listing from East West Consolidated, LLC, d/b/a Tactical Scorpion Gear. Agree to be bound by the following terms and conditions. Purchaser represents that s/he is at least 18 years old or the age of majority in the State or Territory in which s/he resides. Purchaser is encouraged to seek qualified legal counsel in his/her jurisdiction if Purchaser has any questions concerning ab federal, state, or local laws. S violation of any federal, state, or local law concerning the Purchaser.
S body armor is tested to withstand bullets, the armor is bullet resistant and not bulletproof. Body armor will not protect someone from injury or death in all circumstances. Body armor will not provide any protection for the parts not covered by the armor. Purchaser acknowledges that there is always a risk of injury, including serious injury or death, if struck by a bullet while wearing body armor.
ALL WARRANTIES, INCLUDING THE WARRANTIES OF FITNESS FOR A PARTICULAR PURPOSE AND MERCHANTABILITY, ARE HEREBY EXCLUDED. These Terms and Conditions may be updated, revised, or changed without prior notice.