SAPI Plate HDPE (very light weight) Level III (3) Inside Body Armor Level III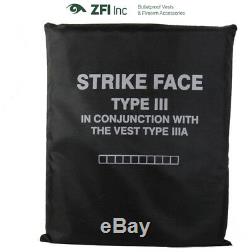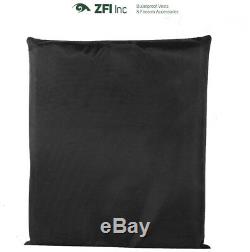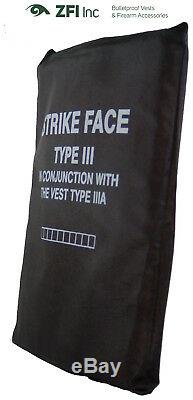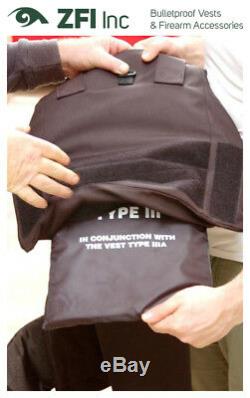 Only Authentic, Original Products, Israeli Quality! SAPI plates HDPE (very light weight) Plate Level III (3) in conjunction with Body Armor level III-A. The Small Arms Protective Insert (SAPI) is a ceramic trauma plate used by the United States Armed Forces. The Kevlar Interceptor vest itself is designed to stop projectiles up to and including 9×19mm Parabellum submachine gun rounds, in addition to fragmentation.
To protect against higher-velocity rifle rounds, SAPI plates are needed. Ballistic material: HDPE (Polyethylene thermoplastic made from petroleum). Bullet proof vests are designed to trap and slow bullets down as they attempt to pass through the vest.
Bullet Proof Vests come in two different types; hard and soft. The soft armors are designed to protect against most handgun and small arms ammunition, whereas hard armors are designed to stop high caliber and armor piercing rounds. The classifies all armors in the following levels. 30 Armour Piercing (M2 AP). Size: 300x250 mm ± 5. = 3 pounds and 3.15 ounces. HDPE is known for its large strength-to-density ratio. The density of HDPE can range from 0.93 to 0.97 g/cm. Although the density of HDPE is only marginally higher than that of low-density polyethylene, HDPE has little branching, giving it stronger intermolecular forces and tensile strength than LDPE. The difference in strength exceeds the difference in density, giving HDPE a higher specific strength.
It is also harder and more opaque and can withstand somewhat higher temperatures (120 °C/ 248 °F for short periods). High-density polyethylene, unlike polypropylene, cannot withstand normally required autoclaving conditions. This includes the US, Germany, Russia, Australia etc... Shop at ZFIinc knowing that you have.
30 days after you receive the product. Yes, all the products we offer are 100% genuine and authentic. We resource our products directly from the manufacturers in Israel.
In the rare occurrence that you do receive a defective item. I have a problem with my order, what should I do? ZFI-inc is an Israel-American base company, founded by ex-IDF (Israeli Army) officers, for the purpose of marketing and distributing top quality defense accessories made by the finest Israeli manufacturers known worldwide. Excellent Service is our goal. We strive to offer 5-Star performance in all areas of our business and want to ensure each and every customer to be satisfied with their order and our service.
We are dedicated to offer the best products at the best prices all while offering the best service to each of our customers. At ZFI-inc, we put customer service above anything - our customers are our 1# priority. We try our best to respond to all inquiries within 24 hour period. Our knowledgeable staff will be able to assist you with any questions you may have regarding the products we represent.
If you have any questions or concerns, we are always here to help! Founded in 1993, Marom Dolphin offers a broad range of military and security textile products allowing for the highest level of protection and ergonomic convenience in the field. Among their customers are military, paramilitary, law enforcement and security organization across the globe. They are the main authorized supplier of tactical and bulletproof vests to the Israeli military and to the Israeli ministry of defense, as well as many other customers, world wide. In short, they offer a wide range of combat-proven body armor vests , designed for high mobility and maximum personal protection , manufactured with durable and lightweight ballistic fabrics.
Modular protective plates for different ballistic protection levels, as defined by the US. Man-made material for bulletproof vests, The GoldFlex® Fiber. 10 Times stronger than steel, Stronger than Kevlar®, GoldFlex® is more expensive than Kevlar®, Dyneema®, Spectra® and Twaron® but offers the best protection. The vests and plates can be quickly exchanged for varying threat levels. All vests are body-adjustable and available in different sizes, plus a variety of optional add-ons for neck, chest, back, and groin.
The item "SAPI Plate HDPE (very light weight) Level III (3) Inside Body Armor Level III" is in sale since Thursday, August 24, 2017. This item is in the category "Sporting Goods\Hunting\Tactical & Duty Gear\Body Armor & Plates". The seller is "634zvi" and is located in Haifa. This item can be shipped worldwide.
Country/Region of Manufacture: Israel
Type: Plates
MPN: SAPI Plate HDPE Level 3 Body Armor
Threat Level Rating: III
Brand: Marom Dolphin