Level III+ bullet proof, ballistic plate, body armor kit -Condor carrier &video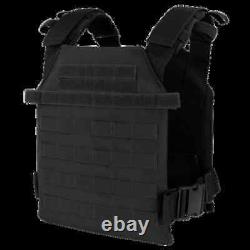 For sale is a Level 3 emergency response kit consisting of. Condor Sentry Plate carrier - black or coyote. 2 x Hudi's Tactical Level 3+ ballistic plates (4.7lbs each). The complete set weights less than 12lbs and is great for emergencies where rifle threat is present. The carrier is low mass great for high energy situations.
Hudi's Tactical Expanded Protection (EP) Mk4 ballistic plates. (9x11" vs 8x10" found on standard plates) offering 21% more ceramic coverage area. They also have built-in anti-spall liner to eliminate the possibility of spall injuries. These plates has been independently tested by NTS-Chesapeake (officially approved lab) according current standards with 2 rounds of 5.56 M193, 2 rounds of 5.56 M855 and 2 rounds of 7.62 M80 with zero penetrations. Please see the attached report for reference.
A customer tested with a. (non-AP) and the plate held up, please see the 3rd video. These plates weighs 5.2 pounds each and measures 10"x12", which fits in any standard sized plate carrier.
Featuring a slim 0.7 profile and ergonomic curvature. The plates are made from alumina ceramics with a polyethylene backplate (itself rated at Level IIIA). The ceramics has a mosaic pattern giving them improved multi-hit capabilities (compared to mono-block construction found on other sites). Material: Ceramics + Polyethylene (UHMWPE).
This model complies with NIJ Standard-0101.06 for Ballistic Resistance of Body Armor.