HighCom Guardian AR1000 Level III+ Plate 20 mil Spall Liner, Shooter Cut Plate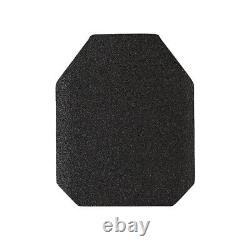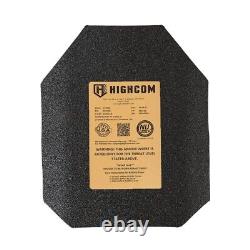 The Guardian AR100 is a lightweight stand alone steel plate providing level III+ rifle protection. The AR1000 is engineered from Ultra High Hardness Armor steel (UHH) and is NIJ 0101.06 compliant and can be found on the NIJ's CPL (Compliant Product List).
The AR1000 is covered in a polyurea ballistic fragment anti spall and blast coating Rhino ExtremeT 11-50. Protection: Level III+ Stand Alone High Velocity Rifle Rounds. NIJ Standard 0101.06 CERTIFIED: This product is NIJ 0101.06 compliant "Certified" by NIJ and can be found listed on the NIJ's CPL. DEA: Hard Armor Protocol Compliant.
RST: Rifle Special Threats Validated. DEA Compliant Threats: M80 ball, M43 MSC PS, SS109/M855.
Exterior Cover: Polyurea with RhinoExtreme 11-50 Anti Spall Coated System (20 Mil). Cut: The 10"x12" shooters cut plates are considered nominal and the actual measurement is 9.5"x11.5".