Elite-Armor Single Curved Hard Armor Plate III ICW (AL203)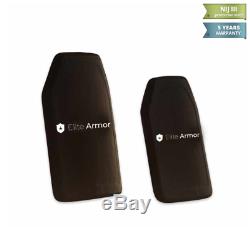 Elite Armor Single Curved Hard Armor Plate III ICW (AL203). The bulletproof plate (also called a hard armor plate) is for inserting into the front and back of the bullet proof vest. The EA Single Curved Hard Armor Plate III ICW (AL203) fits in our bullet proof and stab resistant vests called Impact. The bullet proof plateis made of a high density aluminum ceramic core (Al2O3) supported by layered polymer composite fibers. This bullet proof plate has - among other weapons - been tested against an AK47. You can see details regarding the test below. The bullet proof plate is a single curve plate, which means that the plate comes as one ready-to-insert-unit. The fact that the bullet proof plate it curved, is an advantage in regard to fitting and comfort. ICW (In conjunction with) this means that the Hard Armor Plate must be used with a "Soft Bodyarmor" which is a bulletproof vest in level IIIA to be resistant to the specified protection degree. The plate weighs from 1.28 kg. The bulletproof plate has been tested against the following threats. Tested against 6 shots from 6.6239 mm AK47 MSC with bullets of a specific mass of 7.7 grams and an impact of 740 m/s, according to NIJ std. 0101.06 and 5.56x45 Nato international tests. 7.62x51 Nato, M80 (NIJ level 3 0101.06). 7.62x39 MSC, AK47 (NIJ level 3 0101.06). III ICW M80 & AK47 MSCSS109. For use with our Impact bulletproof and stab resistant vests (Level IIIA). 25x20 cm for sizes S and M (weight: 1.28 kg). 25x30 cm for sizes L to XXXXL (weight: 1.95 kg). Our desire was to produce a bulletproof vest that matched the needs of the danish security industry. With a profound knowledge of the military, the police and the security industry, obtained through the provision of security solutions in an already ongoing business, we had all preconditions in place in order to begin the development of our first bulletproof vest. The first six months were used to decide upon which materials we wanted to use for our vests.
As soon as our first samples were developed and adapted to our specific needs, we began testing them. When all results met the requirements, we were able to produce and sell our first bulletproof vest in 2010 from Elite-Armor.
We received continuous feedback from our business partners, which we used to adjust and further develop our vests. We worked with different types of fiber and different methods of treating them depending on the results we wanted.
This led us to our first two designs; RX1 and RX2. In 2011, we went from having only two bulletproof and stab proof vest designs, to having five. Com's desire for a design line was now founded.
An important element for us has always been to match the user's needs. This means that all of our vests are designed based on feedback from our Danish users, which we consider our costumers' security for optimal comfort and safety. But the development of Elite-Armor. Com's vests doesn't stop here!
In 2013, our vests were upgraded with a thin layer of comfort foam. This thin layer makes our vests extremely soft and comfortable to wear. We are constantly working on developing our products to continue to meet our users' needs and desires.
Therefore, we are open to feedback from all of our customers. Our vests are deliberately not available in shops, as we believe it to be an important factor that we know precisely what our customers get. By having direct contact with our customers, we insure that nobody gets a vest that are more than 3 months old. We have a dream about providing bulletproof and stab proof vests, simply because we think it's fun.
Since we don't have any intermediaries between us and when the user gets his/her product, we are able to offer quality vests at the best prices. Sign up today for our official newsletter & get up to date with our new arrivals and also get our sneak peaks, tips and exclusive offers. Safe & Secure Payments by. The item "Elite-Armor Single Curved Hard Armor Plate III ICW (AL203)" is in sale since Tuesday, June 5, 2018.
This item is in the category "Collectables\Militaria\Surplus/ Equipment\Armour". The seller is "elite_armor" and is located in HOLMEGAARD. This item can be shipped to North, South, or Latin America, all countries in Europe.
Featured Refinements: Hard Armor Plate
Country/Region of Manufacture: Denmark
Country/ Organization: Denmark
Type: Body armor
Clothing Type: Bullet proof vest
Service: Marines