Dragon Skin 2.0 Level III Flexible Rifle Armor Last one Ever Made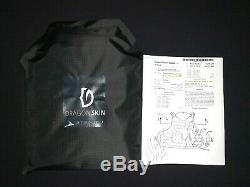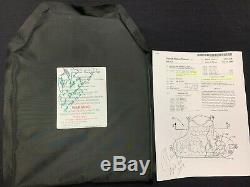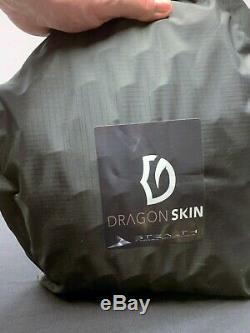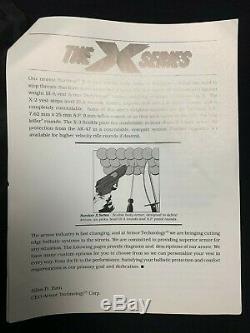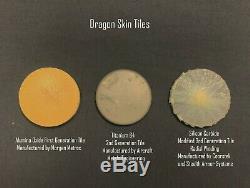 Back in April of 1999 Allan D. Bain and joint venture partner Murray Neal jointly achieved a patent derived from the X-2 flexible A. Pistol round vest invented by Allan D.
That patent application filed in November of 1994 had a serial number of 8-344-336 and was filed on 11-22-94, which was several years before Murray Neal made a Joint Venture offer to Mr. Bains company, then called Armor Technology Corp. You can see the X-2 promotional material listed on the Dragon Skin Patent outlined in yellow. The X-2 was a scaled design using 1 titanium coins coupled with Twaron aramid fabric to stop all kinds of threats.
It led the way to conceive of a larger discus shaped tile to implant into the matrix for flexible defeat of rifle fire. After winning the Hong Kong tender for 1350 units in 1999 for the sale of the worlds first flexible rifle defeating armor, Bain and Neal had disagreements about the direction of Dragon Skin, which lead to the buyout of Bains patent rights in October of 2000.
Bain was in a non-compete agreement from 2000 - 2005, he viewed the DS debacle that Mr. Neal, and his wrong turns made with the DS technology. In 2009 Neal went into Bankruptcy, and Mr. Bain was free to manufacture the technology under a company he started in 2008 called EASI Corp. And that product briefly manufactured was called Skaalar double aa makes hard "A" sound, and was very much the same concept.
In 2014 NADG let Mr. Neal go for not achieving the goals of improving Dragon Skin, and Mr. Unfortunately, most of the capital raised for the company had been spent, and upper management was unwilling to do what was necessary to save the company.
During the 4 months Mr. Bain was in Missoula he introduced many improvements thought up when he ran EASI Corp and manufactured Skaalar, one such innovation was called the radial winding as a disc tile containment method, and introduction of the latest generation Dyneema Force Multiplier textile 0/90 UD laminate. Bain left in late August 2014, and later that year conceived of a new product idea.
For flexible rifle armor, and Hexar was born! Hexar is lighter, thinner, and still very flexible as compared to Dragon Skin. We made a few prototypes of Dragon Skin 2.0, and tested a 10 x 12 sample. However, when cost to performance & thickness and weight are compared it was obvious that these. Were the last of its kind.
There is one 10 x 13.5 LG SAPI sized level 3+ fully function DS 2.0 flex plate left, and its the last that will ever be made. Its a true iconic military gear collectors item.
There is only one, and Mr. Bain built it himself and signed it. Large SAPI sized fully functional DS 2.0 rifle plate with the represented radial winding ceramic tile improvement coupled to Dyneema SB117, which is the highest performing textile material on the market today.
Signed copy of the Dragon Skin patent. Original 1996 X-2 Promotional material referenced in the patent. The paper is beginning to yellow as it is 23 years old. Copy of original X-2 patent with affidavits of the filing and pictures of the scaled product.
Bain that he built this last unit, and a statement that no more will be made. There are only three of these in existence, and this is last one that will ever be made, and can be yours for the right price. Tile samples showing the evolution of Dragon Skin including an alumina oxide ceramic tile for the Royal Hong Kong Police. Also, the famous Titanium Alloy tile they used to show how great DS was on the Future Weapons show broadcasted on the History. You cant stop 100 rounds like that with ceramic, and that was the titanium version.
And lastly, a new radial winding tile like the ones inside this sample representing the next advancement in tile construction. Some people have made offers and then backed out. This time please be mindful that an offer made and accepted is a contract, and we expect you to follow through on that commitment. We are happy to supply any back ground information you need to further authenticate this collectors item, but a deal is a deal, and this is authentic! DONT MAKE AN OFFER UNLESS YOU MEAN IT.
The item "Dragon Skin 2.0 Level III Flexible Rifle Armor Last one Ever Made" is in sale since Thursday, November 21, 2019. This item is in the category "Sporting Goods\Hunting\Tactical & Duty Gear\Body Armor & Plates". The seller is "alla_bai" and is located in Missouri City, Texas.
This item can be shipped to United States, Canada.
Model: DS 2.0 by SAS
Modified Item: No
Country/Region of Manufacture: United States
Custom Bundle: No
Protection Against: Ballistic
Type: Plates
MPN: Does Not Apply
Threat Level Rating: III
Brand: SAS DS 2.0