AR500 Armor Level III+ Lightweight Curved ALSC 10x12 Steel Body Armor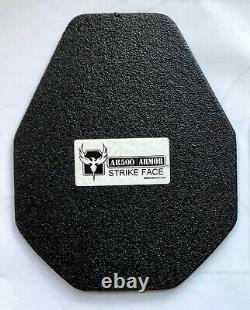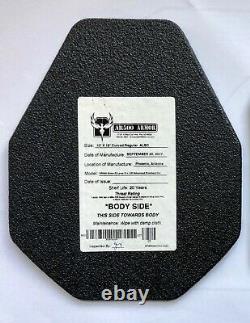 AR500 Level III+ Lightweight Curved ALSC Body Armor Like New. This is an ALSC AR500 armor plate. It is curved with a base coat.
The perfect plate if youre looking for a low-burden and mobile protection solution from AR500 Armor. Whether youre looking for something comfortable for long hours on duty, or something able to keep up with fast-paced action on the field, the Level III Plus Lightweight ALSC (specifications below) has you covered. The patented Advanced Lightweight Shooters Cut, which makes the defining difference of this plate, has two main differences from a SAPI or Shooters cut: First, the plate tapers to the bottom as well as to the top, making a diamond-shaped design. This allows for free movement of your entire body as well as a significantly lighter overall weight.
Second, the plates taper on the top is slightly deeper than other cuts, to allow for easier rifle shouldering and other actions. This taper is the same on both sides, making it ambidextrous. Tested to go above and beyond NIJ Level III standards, the Level III Plus ALSC defeats all pistols and most rifle ammunition, including 5.56x45 M193, 5.56x45 M855/SS109 at 3,000 FPS as well as AK-47 rounds (7.62x39) and. 308 (7.62x51 M80 NATO Ball) at 2,850 FPS. Also, thanks to steels special properties, it is able to protect against several hits without shattering or breaking like ceramic or polyethylene would. It also provides the same protection on the edges as it does in the center, giving you true edge-to-edge coverage. The FragLock Coating, available in both Base Coat and Build-Up Coat versions, is a feature of AR500 Armor plates that protects both the user and the plate itself. It protects the user by helping either capture or deflect fragmentation (a bullets fragments after impact) and spalling (the armors fragments after impact). The Build-Up Coat is a thicker seal which does this better than the Base Coat, although both do it to a degree. The FragLock also protects the plate by sealing it from the elements, which could otherwise corrode the plate. With either version of the FragLock Coating, this plate has a shelf life of twenty years and requires no maintenance. Material: Ballistic steel of 650 hardness on the Brinell scale, with FragLock Coating. Protection: 5.56x45 M193, 5.56x45 M855/SS109 at 3,000 FPS (+/- 30FPS) and 7.62x39(ie AK-47), 7.62x51 M80 NATO Ball ie. 308 at 2,850 FPS. Not rated for AP rounds.
Level III+ LW multi-hit protection against calibers up to 5.56x45 M193, 5.56x45 M855/SS109 at 3,000 FPS (+/- 30FPS) and 7.62x39(ie AK-47), 7.62x51 M80 NATO Ball ie. Made in USA, FragLock, Curved, Rifle Rated. Shelf life: 20 years These were manufactured in 2017, but there is no real expiration date for steel coated in Fraglock. Manufactured: Phoenix, AZ United States.
Here you will find detailed information relating to AR500 Armor® patents. AR500 Armor® Patent Number 9,021,612. This patent is related to our asymmetrical armor. AR500 Armor® Patent Number 9,874,425.
This patent is related to our spall and frag coating. About AR500 Armor of the Armored Republic. AR500 Armor® launched its own line of ballistic armor and. We entered the industry with the mindset of manufacturing top-quality, reliable products that offered our customers high-value solutions.
Our products are intended for responsible law-abiding American citizens, our law-enforcement personnel, and our military personnel; we currently sell to legal residents of the United States. With our unique in-house manufacturing processes and ability to acquire material made to our specifications, weve set the standard for ballistic steel core body armor. Spall and fragmentation mitigation coatings.
We've further increased what's possible with ballistic steel. Our products, which in addition to body armor include. Are available through our website and authorized dealers throughout the United States. AR500 Armor® is a privately held business; our headquarters, team members, and manufacturing facility are located in Phoenix, Arizona. We would like to extend a sincere thank you for taking the time to visit our website.
Should you have any questions please dont hesitate to. AR500 Armor® takes the safety of our customers seriously. All AR500 Armor® steel core armor products are manufactured 100% in the USA. See our AR500 Armor® Patents below. This model complies with NIJ Standard-0101.06 for Ballistic Resistance of Body Armor. The item "AR500 Armor Level III+ Lightweight Curved ALSC 10x12 Steel Body Armor" is in sale since Thursday, November 11, 2021. This item is in the category "Sporting Goods\Tactical & Duty Gear\Body Armor & Plates".
The seller is "jche6512" and is located in Cary, North Carolina. This item can be shipped to United States.
Features: Lightweight
Department: Unisex Adult
Model Year: 2017
Number of Items in Set: 1
Size: 10x12
Country/Region of Manufacture: America
Material: Steel
Model: Trauma Pads
Protection Against: Ballistic
Brand: AR500 Armor
Color: Black
Body Area: Chest
Type: Plates